What is an Gutter Cleaning Service?
We unclog any clogged downspout

We remove all leaves and debris from gutters

We assure a good water flow through eavestroughs

We clean the outside of the gutters if we need to

We repair any damaged gutter

Safety First, as always
Gutter Maintenance is Important
Given our harsh winters here in the Montreal Region, gutter maintenance is primordial. The water that accumulates in an eavestrough due to clogged downspouts will eventually freeze during the winter instead of flowing through. That block of ice will then further prevent water created from melting snow to flow through the eavestrough and that circle will keep repeating until the real damage starts. When the block of ice fills the gutter and water starts sitting on the shingles and behind the eavestrough, the water can and will end up flowing in the attic which does not need explanation: it is bad. Also, the weight and blockage of the ice in the gutter can damage it and will force you to do costly repairs to both the eavestrough and the roof.
We cannot stop water from freezing during winter, but we need to be smart and control it with the downspout so it freezes away from the foundations, hence why an overflowing gutter can also cause damage to the foundations. How? Water gets in a little crack of foundation, freezes, expands and the crack gets bigger, over and over again. We need to make sure the downspouts are ready for winter and let the water flow through so we can get it as away from the foundations as possible.
Third, who like a good freezing shower from the eavestrough when coming in through the front door, or right in the middle of the window that you just cleaned? Nobody does, it is there to remind us that we did not do our job in the fall! Well, most people don't enjoy cleaning downspouts, being on a 25 feet high roof picking up rotting leaves in the eavestrough is no fun. Rest assured, it is our job and we will do it with a smile, day after day! We sometimes are even able to do the gutter cleaning from the safety of the ground using a specialized shop vac with a long neck that goes all the way up to suck up all debris from the eavestrough. Gutter, downspout, eavestrough, name it as you want, we clean it and we clean it well!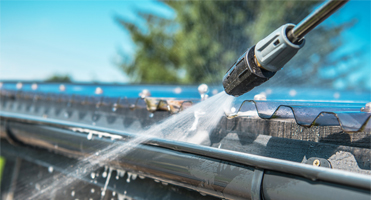 Get your free estimate today and we will give you one for your window cleaning needs and pressure washing at the same time, no need to get multiple appointment, no need to change contractor year after year, we are around to stay and serve you beyond your expectations, give us a call or fill our contact form so we can reach out!